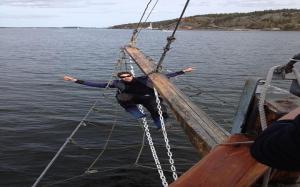 The annual 2014 Portland Boat Show – in its 54th year – included a large variety of categories.  Some examples were: runabouts, behemoths, car-toppers and more.  Really there was something for everyone and my husband came home salivating.   At least that's all he came home with.  He knows the state of our bank account!
Oh, that and some stories from the show.  He told me that people were selling used boats at the show – something that they had started only a year ago.  And then there was the whole promotion of using renewable energy for boat design.  Apparently we know anyway (well I didn't but Daniel did!) that boats that run on gas are real energy suckers although that might change soon.  Boats might soon come with solar panels and at the show, Solar Tracker 360 – a local company – came and explained how this would work.
I know how much Daniel dreams of owning a boat.  And I understand it, truly I do, especially living in Portland boasting the Pacific Ocean and the stunning lakes and rivers.  But right now we just don't have the capital.  I hope though, someday, his dream comes true, but for now, he can just admire the boats at the show and I can just take the kids for Sunday trips on the region's rivers.