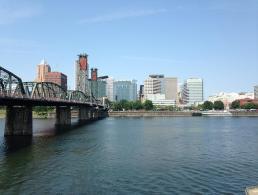 I always thought that the Portland environment was something of which I could be proud. I felt like there were enough Portlanders who had worked on making the environment a priority; that it was something with which I didn't need to concern myself.
So when I heard that Oregon's waterways recently ranked the 33rd worst in the country, I was disappointed to say the least. According to Environment Oregon, just two years ago the Oregon industry dumped 1.3 million pounds of toxic chemicals into rivers, streams and lakes. What is going on and why didn't I know about this??? Where are all those staunch Portland environmentalists who are meant to be on the case for me and my family? Oof!
I really thought that we were safe and protected from this kind of stuff. The Oregon Department of Environmental Quality (DEQ) has been working in this area for a long time. Just a few months ago, all revisions it made to the state's toxics water quality standards were approved by the US Environmental Protection Agency (EPA). At the end of last year, these recommendations were brought to the DEQ at a meeting in Portland and thereafter came into effect in April for all Clean Water Act programs.
Still I wasn't thrilled by what Alexa Pettinari of Environment Oregon said, "With facilities dumping so much pollution, no one should be surprised that more than half of our waterways are unsafe for swimming and fishing." Still, according to the 1972 Federal Clean Water Act, it is illegal to discharge pollutants into navigable waters unless the discharger has a federal permit. I hope at least that is effective and to the benefit of Portland environment.