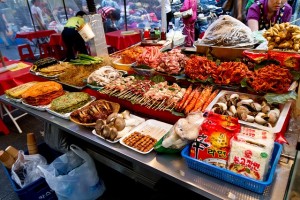 Korean food was recently celebrated in Oregon. Hosted by the Korean American Coalition of Oregon in Northwest Portland, three days ago 11 chefs assembled for the Mukja (which means 'Let's Eat') food festival.
Chefs include: Brandon Kirksey of Girin (offering classical Korean cuisine), Rick Gencarelli of Lardo (a restaurant whose humble beginnings date back to a food cart in SE Portland), John Gorham of Toro Bravo (a Spanish-inspired tapas restaurant in NE Portland), Kyo Koo of Superhawk, Johanna Ware of Smallwares (self-described as an "inauthentic" Korean restaurant), PJ Yang of Bamboo Sushi (the world's first certified sustainable sushi restaurant), Bo Kwon of Koi Fusion (a funky fusion of Korean BBQ and fresh Mexican flavors) and more.
Tickets retailed at $50 per person or $75 for VIP.