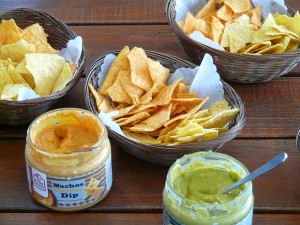 I've not ever associated Portland with nachos but hey I'm game if the city is! We had Dumpling Week and now we're right in the middle of Nacho Week. It started on the 5th and the last day is tomorrow.
I actually went to the Sunshine Tavern yesterday and enjoyed their nachos. But there were 12 other eateries in the city featuring nachos on their menu for this special week too.
Not only that, it was nachos with a difference. For example Cheese Bar offered Swachos (which are Swiss nachos whereby chips are laced in fondue cheese and topped with chopped cornichons, bacon lardons and an apple jalapeño salsa). Yum.   And indeed they were. Because I just now found out that Daniel sneaked off there in his lunch hour and didn't tell me!!! Ooh that will be fuel for a fight late ron!
Anyway I'm still hoping to win a gift card from the prize draw of the Nacho Passport I filled out. Wish me luck! I did collect 9 stickers so I'm in with a pretty good chance (yes I stole one from Daniel!). Watch this space!