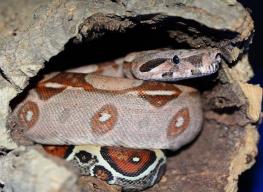 Melissa Moorhouse apparently got on a train in downtown Boston last Friday heading towards Braintree with her pet boa. After traveling an undetermined distance she suddenly realized that "Penelope" was missing. Explaining her emotions when she discovered her loss as "devastated," Melissa explained that her snake "was on my neck along with my scarf," and that she had checked for Penelope's presence there at every train stop, just to be safe.
When Ms. Moorehouse realized that her boa was not indeed on her neck, she checked in her bag, which she explained was a possible place for her to be. "Sometimes she will climb into my bag, but she did not and she was not stuck in the lining of my coat or anything like that. I couldn't find her anywhere," Melissa said.
Continuing with the story Melissa added that, "There's a small chance that maybe she was left at Park Street and I was just feeling my scarf. But I'm very positive that I lost her in, I think they said car three, between Park Street and Andrew, because I was getting off at Andrew when I realized I didn't have her."
If you do happen to come upon a Boa dumerili somewhere in the vicinity of Boston that answers to the name Penelope, you can rest assured that, according to Melissa, she is perfectly harmless, and even shy, so no need to be frightened. On the other hand, meeting Melissa might be an entirely different sort of experience.