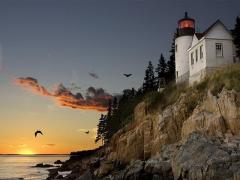 Portland is famous for a whole lot of things and I guess its bathroom facilities are probably quite high on the list. However, when you start comparing the public facilities to others throughout the nation, the Portland Loo doesn't have all that much competition. So now it seems the city might be cashing in on its invention.
I always remember my mom complaining that there were no facilities along the road when she was pregnant with my siblings. It drove her – and my poor father who was trying to take us on a road trip – nuts. So when I got to Portland discovered the Portland Loo, I remember telling my mom all about it. "Oh," she said, "things still haven't changed all that much here back in Cincinnati," she bemoaned.
Even if one can find such a facility, they often smell worse than where a vagabond has been sleeping for more than a night or two. And the vandalism is insane. So unless you happen to be close to a popular restaurant chain, then you're pretty stuck. And it sure isn't fun when you're pregnant, as when you have to go, you really have to go.
It seems though that now the country's big cities are trying to do something similar, which is ending up to be a costly – and not so effective – poor alternative. Large cities around the nation are purchasing very high-tech self-cleaning automatic loos that aren't quite doing the job. Like in Seattle, five were installed, costing the city a staggering $5million but due to them being used for drugs and prostitution, they were sold on eBay in 2008!
Clearly the Portland Loo is the way to go. I mean, if it anyway already has its own FB page and more than 200 Twitter followers, what more can one ask for?