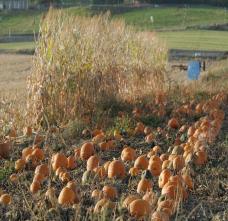 Nothing is more tasty and cozy than a bowl of fresh, steaming soup on a cold winter evening. Instead of making plain old vegetable or chicken soup, why not try something completely different? Here is a great recipe for a healthy, delicious pumpkin soup, perfect for the season:
¾ cup of water
1 small onion, chopped
1 can (eight ounces) pumpkin puree
1 cup unsalted vegetable broth
½ teaspoon ground cinnamon
¼ teaspoon ground nutmeg
1 cup fat-free milk
1/8 teaspoon freshly ground black pepper
1 green onion, chopped
In a large pan, heat ¼ cup of water over medium heat, and add onion. Cook until tender. Add the remaining water, pumpkin, broth, cinnamon and nutmeg, and bring to a boil. Reduce heat, simmer for five minutes, and then stir in milk. Do not boil again. Ladle into individual bowls and sprinkle with pepper and green onion. Serve immediately, and enjoy!