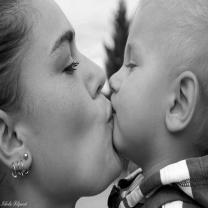 What is now the greatest source of "E-waste" in the world? The answer is: Computers, monitors and… cell phones. With the average American upgrading to a new cellular model every 1.5 to 2 years, cell phones are now the fastest growing source of manufactured waste in the country. The U.S. Environmental Protection Agency reports that Americans are now getting rid of 125 million phones annually, producing 65,000 tons of garbage. Furthermore, discarded cell phones are particularly hazardous to the environment, as the toxins many of them contain, such as lead, mercury, cadmium, flame retardants and arsenic, leak into the landfills and pollute our air and water nationwide.
The good news is: There are now a few ways you can upgrade your cell phone without downgrading the quality of the planet. When you're ready to trade in your mobile, try one of the following:
1. Visit the Call2Recycle website. Put your zip code into the designated place on the website and they'll direct you to the nearest location in your area where their drop-box is located. Many major electronics stores, like Radio Shack and Office Depot, host Call2Recycle drop-boxes in their stores.
2. Contact CollectiveGood; they'll take your old cell phone, refurbish it, and sell it to companies who distribute them in developing countries to help open communication to the world's poor. You can even direct the profits from the sale of your phone to the charity of your choice.
3. Contact your local government to find out what the law is for cell phone recycling in your area. While there is no federal law mandating cell phone recycling, some states and Canadian provinces are filling in the gap. California passed the Cell Phone Recycling Act in 2006; in New York, legislation S-8182-A requires New York cell phone providers to accept your old cell phone at no charge and then recycle or dispose of it properly.
4. Look for the "green phones" on the market. The new AT&T Samsung Evergreen, for example, is made up of 70% post-consumer recycled materials and comes with an Energy Star 2.0 certified charger. What this phone does not have is PVC, BFR and Beryllium. What it does have is a full QWERTY keyboard, a 2.4 inch QVGA display, a 2.0 megapixel camera with video screen and 3G support with Bluetooth. So thanks to AT&T's new Samsung Evergreen – you can now have your (organic) cake and eat it too!