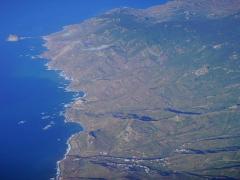 One thing I've forgotten to mention so far in this blog (and don't tell Daniel – he won't be pleased) is our dog Galvin. The reason Daniel will be less-than-happy is because he sees him as "the first born." And, in a sense, he's right. Galvin was a rescue dog we found as a puppy when we were engaged (he was sooo cute; "he still is," I hear Daniel yelling in the background) and he's been with us ever since.
Anyway, sometimes I do feel a bit bad about my neglect of Galvin since having the kids. He used to blink and I would think he was a genius. Now I hardly even notice if he's thrown up a hairball! So yesterday I decided that first Ehtan, Galvin and I would take a long walk (yes, Ethan still fits in the Ergo Baby Carrier – knowing he's my last kid I just can't seem to give it up yet). I left Jayden in Daniel's office to watch Toy Story 3 so the three of us could bond. It was a beautiful, sunny – somewhat crisp – d y as well.
After a while it looked like Galvin was getting a bit tired from the walk so we got home and went into the car to buy Galvin a toy. I figured he deserved something nice. The kids are always getting new stuff. So I checked the Internet for local dog stores and went along to All For Paws. I chose some really cool stuff for him there – actually, it was him who chose the stuff; he went over to the toys and treats he liked and stayed in place for a while so I picked them up for him.
Now I don't need to feel bad for putting him in the kennels when we go to Daniel's parents for the weekend. Besides, they look sort of nice to me from the site – maybe he'll even have a good time and feel more spoiled there!
Here's to a grand weekend for us all!