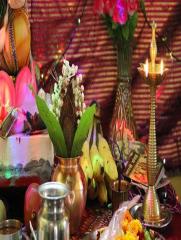 It's always good to get away. No matter how much I like living in Portland, it's just fun to do something different and get away from the humdrum of my day-to-day existence. So Daniel said to get the kids ready; get Galvin set to drop off at the kennels and we would take a nice drive somewhere that included a bit of alcohol (in the form of sophisticated wine-tasting of course) that would also be kid-friendly. It sounded absolutely perfect so I enthusiastically packed all our bags without any complaining.
A little more than an hour after we set off, with Ethan sleeping peacefully in the back and Jayden watching Blues Clues on the iPad fixed to the back of my head rest, we arrived at Pheasant Valley's Bed & Breakfast and Winery. It was absolutely stunning. I couldn't have chosen anything better if I would have planned it myself. I was truly delighted and thrilled with Daniel's choice. Right smack bang in the middle of Columbia River Gorge, the atmospheric air was wonderful for the kids too and I immediately put a smile on my face.
On Friday night after a delicious wholesome, hearty home-cooked meal, we got a babysitter and went walking. I love window-shopping so we did a lot of that and then just enjoyed the scenery. We got back at around 9 and took in an early night so we could be up full of energy for the active day ahead.
We started with kayaking (the boys LOVED it), then Daniel took Jayden fishing (he was a little bit interested!) while I put Ethan in the baby-carrier and went walking. Later on Daniel went river-rafting and the kids and I enjoyed a bowl of French onion soup. Both kids passed out for around 2 hours Saturday afternoon, leaving Daniel and me free to enjoy a tasting of some of the most excellent wines to have ever graced my palette.
Thankfully we had used the online booking facility to reserve our spot at the Indian Creek Golf Course which Jayden got a real kick out of watching. He even "helped" Daniel putt a few holes and really had a good time. I was just busy chasing Ethan around the gorgeous greenery. Later that night we took the kids to a restaurant in Hood River – Riverside, located on E. Marina Way, which was a little pricey, but we felt worth it – especially as the kids had a blast.
We drove back this morning and now the kids are settled in their room playing with their toys. They had a great time for sure, but I think they are pleased to be back. As I always say, there's simply no place like home. Now I just have to brace myself for the working week ahead.