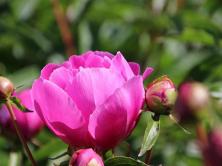 Yes, today is my birthday. I am 41-years-old.  It's been a lovely day so far (well, other than the fact I had to go to work!). My necklace arrived with two little boys on it – one saying Ethan, one saying Jayden – and, when I got home from work, a few of my friends came round for a drink, some snacks and some birthday cake that Jayden had decorated with Daniel.
Funniest thing was, they could only find 'Bratz' in the store so that's what I ended up with! Daniel said it was either that or Spiderman. Cute though, huh? Jayden literally used a whole tub of sprinkles with which to decorate it.
The cake was a Duncan Hines marble cake (as Daniel pointed out "try as I might I'll never make anything better than them") – and it was truly delicious.  And the cutest thing was just how excited Jayden was to present it to me.  He was so proud of what he had done.  At first, Daniel said he thought it was a bit much with all the sprinkles, but in the end we all agreed it looked (and tasted) perfect.  Of course I'm now trying to deal with sugar-overload – both from the kids and me!  But still, a great birthday all round.  And the presents seem to be still coming in!