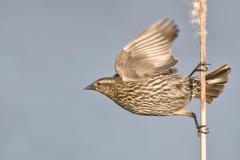 I was so excited for the weekend. I'd been looking forward to the Wild Arts Festival for weeks! But I had no idea just how crowded it would be. I later found out that it was due to the 6×6 Wild Art Project that caused the crowd to "flock" (excuse the pun) to the scene.
It was pretty cool actually. Especially since the decorated tiles were done by local artists. There was a book signing and silent auction, all hosted by the Audubon Society of Portland. Jayden – who's very into nature – really enjoyed it; everything there was somehow connected to nature.
Daniel loved the education birds as a couple of them made a comfortable landing spot in his arm. Ethan got a real kick out of watching that and yelped in delight! They were so mellow; it was cool.
Even though it was more crowded than I originally anticipated, I'm glad we made this a family day out. It was something so different from our usual Friday activities: fun, interesting and educational all at the same time!