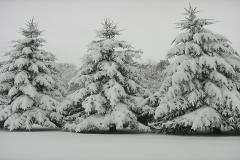 A recent story shed light on how compassionate and caring a whole slew of the community in north-central Virginia can be. On a family outing last week, 9-year-old autistic Robbie Wood Jr. vanished in Hanover County. The boy – with no verbal skills – would not even realize he was in some kind of danger.
That was the bad news. The good news was what came after. The area was teeming with volunteers – over a thousand – who were trained at Kings Dominion and dropped off in the large search area to help locate Wood. A further 500 joined the first group.
According to an account from ABC News, "carrying walking sticks and wearing yellow reflective jackets, the searchers began lining up before dawn to be taken to the forest where they were to look for Robert Wood, Jr. 'I have an 11 year old, and if the situation were reversed, I would hope people would be out helping me look for her,' said a man named Don who stood in line for hours in the parking lot of an amusement park to take part in the effort to find the boy."
It is hoped that the boy will be found soon. In the meantime, it really says a lot about the goodness of the people in north-central Virginia, setting aside much of their time to volunteer to help. Not just tens of people, it's now thousands of people desperate to bring little Robbie home.