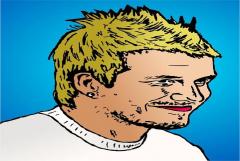 David Beckham – Best Dad
Or at least, that's what his kids might have said on their way home from their fun day out with daddy Beckham to a pottery painting workshop. Indeed, he probably feels his kids are the best too, because no matter how many trophies are in this famous footballer's cabinet, his favorite cup has to be the one painted by his six-year-old son Cruz at Color Me Mine in Los Angeles.
Cruz was really focused on his work of art, and was given some guidance by a helpful assistant. But it seemed his older brother Brooklyn was doing pretty well on his own – beaming with pride as he presented his father a very colorful mug that he had decorated. He hugged him as he handed it to him. And to make the mugs even more cheerful, Beckham himself decided to have some input and grabbed a paintbrush to add a little something to his sons' works of art. That showed he was truly into the whole thing, which obviously made his kids even happier.
He may be one of the greatest football superstars in the world, but, at the end of the day, this was just another story to prove once again that David Beckham is a super dad first and foremost.