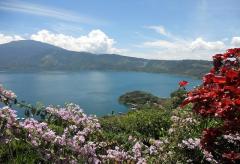 Wow, did we have a good Christmas! The kids are having a blast still with their new toys, giving Daniel and I some nice relaxing time. My parents have been here too which has been such a treat. My mom right now is cleaning up the kitchen; she's so good.
Daniel loved his new iPhone SoL Hybrid Power Pack Solar Charging Case which I wasn't surprised by. But then I felt a little guilty as the gift he got me (form Marios's) surely was way more expensive. He knows I've been eyeing the Prada shopping tote for ages, but I seriously never expected it would arrive as a Christmas gift from him. Maybe a birthday gift – my birthday is in a couple of weeks, but not for Christmas. I literally was speechless. But he knew I was delighted; he was grinning from ear to ear.
We never know what to get my parents – truthfully they have everything. So Daniel made a really cute video of the kids saying "Merry Christmas Grandma and Papa, we love you," as well as a four-slot-picture-frame for them filled with their gorgeous grandkids. It brought a tear to my mom's eye. So I knew she loved that.
And, amazingly so, it is now the day after Christmas; my parents are still here, the kids are off from pre-school, Daniel is nursing a slight hangover and no-one has even come close to a fight. That to me is truly the miracle of Christmas 2011 in the Goldsmith family home, Portland, Oregon.